Yesterday I had the pleasure of attending the London Music Fund's annual fundraising lunch at the May Fair Hotel in London.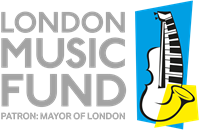 The London Music Fund (formerly the Mayor of London's Fund for Young Musicians) supports musically gifted children from low income families across London. It does so by providing scholarships to children who primary schools and local Music Services have identified as having the right combination of potential, enthusiasm and commitment. The LMF then funds around two hours per week of music tuition, including instrumental lessons, ensemble playing and theory. Students also receive a mentor and, if needed, an instrument. Since the Fund was founded in 2011, scholarships have been awarded to more than 500 young musicians.
The Fund also provides partnerships with professional arts organisations (it works with the London Sinfonietta's Sound Out schools programme for composers, for example), which widen its reach and impact still further. Future projects include work with young musicians from Croydon Music and Arts in preparation for the opening of the redeveloped Fairfield Halls and a partnership between the Orchestra of the Age of Enlightenment and schools in Camden.
Families with incomes of less than £28,000 are half as likely to have a child learning an instrument, according to a recent study by the Musicians Union, as families with high income. A further report by the BPI has found that only 12% of schools in the most-deprived communities have any kind of orchestra – this  compares to 85% of independent schools. As cuts in education begin to bite harder, headteachers are forced to make difficult decisions; music provision is often the first thing to go.
It is, one has to agree, a remarkable charity, driven by the indefatigable Chrissy Kinsella and a tiny team. They are fortunate in having the patronage of the Mayor of London (and Sadiq Khan was in attendance) as well as the good will of many other charities, organisations and social enterprise companies, representatives from several of which I met yesterday. Two scholarship beneficiaries were also there. Fourteen-year-old clarinettist Zaki Osahn, who was a 2013–17 Scholar, played beautifully a movement from Paul Reade's Victorian Kitchen Garden Suite, demonstrating a musicality, confidence and control over his instrument far beyond his age. And nine-year-old clarinettist Christiana Adebisi, who is just beginning her four-year scholarship, gave an accomplished and moving speech about what the Fund will mean to her and her family. Christiana mentioned among her favourite musicians the saxophonist YolanDa Brown (among other things, star of CBeebies' YolanDa's Band Jam) without realising that Brown (an LMF ambassador) was in the room. The huge bear hug Brown gave Christiana as she walked back to her seat gave a glimpse of what the Fund can mean for all parties involved.
As well as fundraising, one of the other reasons for the lunch yesterday was to celebrate a new long-term partnership with Simon Cowell's Syco Entertainment and the announcement of Simon Cowell as a new ambassador for the charity. Say what you like about Cowell, but he knows a good thing when he sees it, and I'm sure his support will help the London Music Fund achieve even more.
More information about the London Music Fund can be found in its recently published 2018 Impact Report. If you wish, you can support the Fund through its website.